It is important to provide proper ventilation for birds kept in an acrylic aviary. In addition to promoting air exchange, the ventilation panels also act as sound ports, allowing you to better enjoy the aviary sounds. I chose to put the ventilation panels at the top of the aviary so that it would be very unlikely any aviary debris will escape from the aviary through the mesh.
In the past, I've used regular hardware cloth for ventilation in the temporary aviary and in the flight cage. I've since read an article describing the dangers of zinc poisoning when using hardware cloth to make cages: Galvanized Wire and Zinc by Dan Radovich. This article convinced me I might be better off finding a good alternative, even though I have never had a death in the flight cage in two years of use with ventilation panels made of hardware cloth. I have a feeling the risks from using hardware cloth are much greater when you house birds like hookbills that like to chew and climb using their beaks, especially if all walls are made of the mesh. However, I want to provide the safest possible environment for my birds, and it sounded like standard hardware cloth was not it.
What I found was green vinyl-coated hardware cloth, available at Menards. This hardware cloth was totally covered in green vinyl and should therefore protect my birds from any zinc that may be in the wire itself. Since finches will not chew through the vinyl, there should be no danger. This is just my supposition, however, and I have never found any information regarding vinyl coated hardware cloth and bird safety. It is also very nice looking. It gave the aviary a more polished look than the standard exposed hardware cloth would. Note that vinyl coated hardware cloth would not be suitable for hookbills that chew, as they could easily chew off the vinyl coating, exposing the wire and making the ventilation panels unsightly.
I have heard of people using plastic hardware cloth to make cages and aviaries. Plastic hardware cloth should never be used in an outdoor aviary, as predators can easily chew through the plastic to gain access to the birds. It is perfectly fine for an indoor aviary, however. I am unsure as to whether the vinyl-coated hardware cloth is suitable for outdoor aviaries, as I have not seen any information on this.


Installation of the hardware cloth was simple. The hardware cloth was cut with a wire cutter into rectangles slightly larger than the openings in the aviary front. The hardware cloth was flattened by hand, then stapled to the inside of the aviary front with a staple gun, making sure to keep the piece straight across the opening so that the grids do not appear crooked.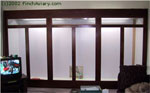 The aviary, with ventilation panels installed