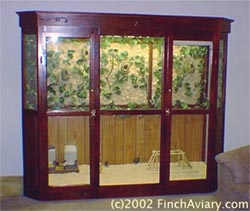 The old aviary in March of 2000
THE AVIARY
We first became interested in finch aviaries when my grandmother became ill. The nursing home in which she was treated had a lovely indoor aviary that captivated the attention of the patients and visitors alike. Prior to this, we had never conceived of owning a bird. Keeping a bird in a cage seemed too confining, and allowing a bird to roam freely about our house seemed like a housekeeping nightmare. But the idea of owning a furniture-quality aviary that would be the focal point of our living room, in which the birds would have the freedom to fly, interact, and build nests, quickly consumed me.
Because we never do anything impulsively, we immediately started researching. We bought every finch book the pet store stocked (most of which rehashed the same information and shared the same photographs), but which were a good first start. We then scoured the Internet for information and ordered some more substantive books from the online bookstores. Once we felt we knew what we were committing ourselves to, we began looking for places that build these aviaries.
At that time we were not ready to build our own aviary, even though my husband, Tom, is quite handy and fully capable of building what we needed. Not having had the experience of keeping birds before, I was afraid I would design something that was in some way hazardous to the birds or difficult to maintain and I preferred to have it built by someone who had done this before.
This meant that we were limited in size to something that would fit through our door. The aviary that we had built for us was 7 feet long, 2 ½ feet deep, and 6 feet tall and cost about $4,000.00 (including birds). Quite a lot of money, but it looked nice in our living room and our birds lived there comfortably for two years.
As time went on, my husband noted many things about the construction that he felt he could improve upon, such as the way the Plexiglas was installed. There were elements that I felt were not safe for the birds, such as the use of screen ventilation panes rather than mesh and the use of Excelsior craft straw stuffed against the back wall for bedding and decoration. There were also things I wanted to add, like night lights and heat lamps, a feeding door, and the ability to partition off sections of the aviary in case birds need to be separated.
And of course, once you have birds, you always want to give them more space.
So the new and improved aviary was born. We put a lot of thought into the design of the new aviary and decided to publish this site so that others in the process of building an aviary might be able to find ideas here and avoid some of the problems we discovered with the original aviary. We also intend to publish the cost of all the materials and accessories and where we purchased them from, to aid in the financial planning of a project like this one.
Click Next to Learn a Little About Who We Are


NEXT