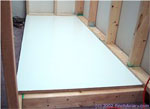 Melamine sheets were used to create the aviary floor. The white veneer is water resistant and easy to clean.
The floor was constructed from 3/4" thick melamine (a particle board with a white veneer, frequently used for shelving units). Two 4x8-ft pieces were cut down to fit half the aviary floor each (width of about 30", length of about 6.5 ft) and were laid down on the structural frame, meeting in the center. The floor is not permanently attached to the aviary, but is encased by the aviary front and the aviary frame so that it cannot move from side to side. Because there is no room for it to move, it does not need to be bolted down.
We've used this type of board before - as the floor in our original aviary and as the floor in a large flight Tom built. It works very well because the veneer is smooth and very easy to clean, as well as water resistant. You have to make sure not to damage the veneer on installation, however, since the particle board beneath can swell up if exposed to excessive moisture.
UPDATE: While in the past, I've never had problems with this surface and exposure to moisture, I have recently noticed slight swelling in the location of the bird bath. To date, it has not been enough to be a problem. To counter this, I place a little extra paper over the questionable spot so that it stays drier. I am looking into finding a cheep sheet of plastic or other water-resistant material to set over this spot only.