Light Bulbs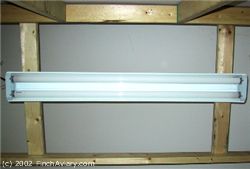 Sylvania SunStick general purpose full spectrum bulbs in the shoplight fixture (note: picture taken during aviary construction)
I use (4) 4-ft 40 Watt full-spectrum light bulbs in my aviary. When selecting a full-spectrum light bulb, there are two types to choose from: consumer-grade full-spectrum light bulbs and specialty full-spectrum light bulbs designed specifically to meet the needs of the pet community (birds, reptiles, fish). Some specialty full-spectrum light bulbs may do a better job reaching all ranges of the light spectrum, but they are very costly. Whether any real benefit can actually be seen in your bird's health is unclear. The information available is contradictory and confusing. The following link references many articles on appropriate lighting for pet birds if you want to try to sort through the information yourself: Birds & Lighting General Index.
I am not convinced that there is any significant benefit to the high-priced specialty full-spectrum lighting and so have chosen the consumer grade Sylvania SunStick (DSGN50) (similar to GE Sunshine Bulb, [Chroma50]). Both these bulbs have a color rendering index (CRI of 90) and a color temperature of 5000K. Ideally, a full-spectrum light bulb should have a CRI of 92 or greater, but I feel the CRI of 90 is close enough, and a 2-point increase does not justify the cost difference between bulbs. The Sylvania Sunstick (4 ft, 40 W) costs $6.29 at Menards (at the time of this writing).
Be aware that the full-spectrum properties of the bulb will be diminished before the light itself burns out. Full-spectrum bulbs should be replaced every 1 to 2 years (depending on the model) when used in an aviary setting. The bulbs are perfectly useful beyond this time-frame as regular flourescent bulbs.
Full-spectrum lights have been pushed as a source of aviary lighting for a variety of reasons. The most common is to provide a good source of vitamin D. However, more recent thought says that the best source of vitamin D is a balanced diet. Nonetheless, birds are still thought to benefit from full-spectrum lights, particularly in regard to feather condition. At the very least, full-spectrum lighting is the best way to view the birds (short of natural sunlight, of course).
See the "Lighting" Topic of the Construction section for information about the lighting fixtures used and how they were installed.
Click Previous to return to the Floor Covering Page

PREVIOUS


TOP